Slate Roof Repair Services in the Dublin Area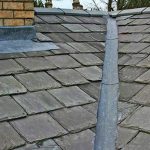 Slate roofs are an excellent option for any roof when you consider there durability and the finished look. This makes them a popular choice throughout County Dublin. The most common reason people opt for a slate roof is that it can provide years of maintenance-free protection.
Although slate roofs are among the most durable of roofing products, damage and leaks can still occur, and it's best to get this damage assessed and repaired as soon as possible. 
If you have a slate roof that is showing signs of leaking or damage, contact TC Roofers Dublin in Dublin.
TC Roofers Dublin are on hand to provide same day visits, making sure your home remains safe.
Slate Roof Repair in Dublin
The 2 most common reasons a slate roof may need repairs:
Slate tiles that have slipped, broken or are showing signs of damage
The flashing on your slate roof has deteriorated or came loose
If you've recently experienced severe weather at your home, it is quite possible that your roof has a leak in it and you require repairs to your roof.
TC Roofers Dublin can repair your slate roof regardless how damaged it has become. Our slate roofing experts will carefully replace broken tiles and inspect your roof for additional areas that might be damaged. We work hard to get the job completed on time, and to deliver a quality service.
Call 01 5920830 or 01 2542621 or contact us online today to schedule slate roof repair in Dublin or anywhere else in the County Dublin area.

TC Roofers Dublin: Slate Roof Experts
When it comes to slate roof repair in Dublin, it is important that you contact a roofing company that has the right experience. Slate roofing, whether it be installation or repairs, requires a different skill set than other roofing types, such as felt roofing.
Sean and the team at TC Roofers Dublin have been using their years of experience and knowledge to build the best roofing company in the area. We believe in providing our customers with the most thorough service possible.
We take pride in every service we provide, whether we are helping you maintain your roof, or we are replacing a roof that is no longer protecting your home, we promise to deliver the highest quality of workmanship.
Call Us for Slate Roof Repair
From the moment we inspect your slate roof to the moment we finish the roofing job, you can expect only the best service from us. Our reputation is built upon it. Visit our slate information page for more details on slate roofing.
Contact the team at TC Roofers Dublin today and get a free quote on repairing your slate roof.