Looking to add a new slate roof, replace or repair your slate tiles in Dublin?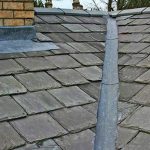 Slate is one of the most effective, durable and outstanding options for your roof that is often overlooked because customers are unfamiliar with its value and capabilities. Before choosing a slate roof, make sure you have all your questions and concerns answered by a professional roofing contractor like TC Roofers Dublin. Here are some standard questions about Slate Roof Tiling.
What Colours and Styles Are Available With Slate Roofs?

There are numerous slate roofing types that vary in both colour and finished textures. Two of the most common styles found in Ireland are the standard smooth slate colour type and the other is a textured overlapping style.
What Lifespan Can You Expect From Slate Tiles?
Slate is a natural stone product and not prone to the same type of fading or wear and tear of standard roof tiles. Slate is incredibly durable and can last several hundred years, often with little to no maintenance. It is safe to say that you will get at least 75 to 100 years or more out of your slate roof.
However, it's important that you do not put anything on your slate roof such as sealant or paint because this can cause the roof to age prematurely. Instead, get your roof cleaned every couple of years and it will stay in pristine condition for generations.
Do Slate Roofs Require A Different Installation Process?
Slate is an extremely heavy product and can add weight to your roof. During our quotation, we can assess your roof and see if structural changes will be required to handle the extra weight of a slate roof.
What Is The Price Difference Between Standard and Slate Tiles?

Slate is an expensive product and you can count on it being two or three times more expensive than a standard tiled roofs. The price of a slate roof will also vary depending on the size of the pitch of the roof due to extra weight considerations and work to ensure it grabs correctly.
What are the benefits of slate versus standard roof tiles?
Slate is a lifetime job. If its installed correctly, it will last for generations, but a standard tiled roof may need to be replaced every 20 to 25 years. Another benefit of slate roofing is its ability to increase the resale value of your home due to its natural beauty and durability. Slate is recognized as an elegant roofing material and will enhance the appearance of your home. Other benefits of slate roofing include its natural ability to be fire resistant and mold resistant and slate's low water absorption makes it resistant to frost and damp conditions.
Can You Repair a Slate Roof?
You can repair your slate roof at any time. It is important to have the proper contractor examine your slate roof to find the damaged pieces, and the repair is as simple as sliding out the damaged slate and replacing it with a new piece. Having a professional like TC Roofers Dublin inspect your roof once a year will also help you keep your slate roof in great condition. Visit our page about roofing repairs in Dublin for more information.
To find out more visit our slate roofing service in Dublin.