ROOF RIDGE TILING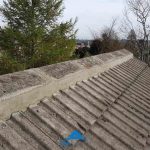 Roof ridge repairs in Dublin. Unbeatable prices, Quality workmanship. Call the professionals today at TC Roofers Dublin in Dublin, for a FREE NO OBLIGATION ESTIMATE on repairing your ridge tiles.
All our Ridge Tile Repairs in Dublin is carried out by our own trained team and covered by our written guarantee. Our team are trained to work professionally and efficiently, with years of experience at replacing ridge tiles, fixing damaged ridge tiles and re-seating roof ridge tiles.
Options on the ridge tiling services from Top Choice are standard concrete ridge tiling to manufactured imitation ridges, slate ridges and original slate ridge tile repairing. All work comes with a long term guarantee. Insured and certified to carry out roof tile installations and repairs.
We handle everything from loose ridge tiles to ridge tile repairs, re-tacking loose ridge tiles or re-seating loose concrete ridge tiles. If you have lost a ridge tile or its broken beyond repair, we will endeavor to replace it with a close match to ensure it does not stand out. We also offer the option of painting or sealing your roof to restore its colour or give it a brand new colour. Contact us for more information.
All of our roofers are fully accredited and registered. So you can rest assured that when you choose us as your ridge tile repair experts in Dublin, you are choosing a Recommended Roofer that places safety, quality of work, and customer satisfaction at the top of our list of priorities.
You can schedule an appointment by calling our office today, using the contact form to request a call back or by calling us directly for assistance on our mobile. Make the correct choice today for your roofing or guttering, get reliable roof ridge tile contractors in Dublin today. We provide a fast, quality roofing service for repairing all types of roofing from flat roofs to pitch roofs in County Dublin.
Working on a roof requires a skilled and competent contractor, that's why it's important that you hire trained contractors with the proper qualifications and insurance to carry out ridge tile repairs. 
Our team is trained to deal with every roof professionally and safely. We do not employ any 3rd party contractors at any stage as we can not trust them to carry out the work to the standards that we adhere to. We are safe pass certified, registered and insured to carry out everything from small roof repairs to large roof replacements.
You can rest assured that when you choose TC Roofers Dublin in Dublin you are choosing a company that places safety, quality of work, and customer satisfaction at the top of our list of priorities. Over 30 years experience with a large mobile team ready to tackle all types of roofing.
ALL TYPES OF RIDGE TILES REPAIRED FAST AND PROFESSIONALLY IN DUBLIN