NEW ROOFS DUBLIN AND REPLACEMENTS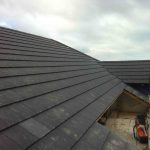 TC Roofers Dublin are experts at building new roofs in Dublin using a variety of materials including slate, tile, felt and new roof projects, we are able to create new roofs using both natural Blue Bangor or manufactured slate plus concrete and clay tiles.
Generally all standard roofs have a lifespan of around 25 years, as long as maintenance is carried out on a regular interval, inevitably though as with all slate and tile roofs there will come a time when through age and from damaged tiles and water penetration, your roof will eventually need to be replaced to protect the rest of your home.
We provide affordable options on roofing repairs Dublin and for building new roofs in Dublin. Call us today to book your free quote.

25 YEAR GUARANTEE ON NEW ROOFS
We use the most up to date methods and top quality roofing materials to ensure our work is carried out to the highest standard and satisfaction guaranteed. Registered and certified roofing contractors for Dublin. Multiple installations available depending on budget and long term requirements.
Our new roof installation service caters for a range of new roofing options include slate, quarry slate, Barna slate, Clay, concrete tiles, single ply roofing, EPDM roofing, fibre glass roofing, rubber roofing and standard felt roofing. On assessment, we can provide you with the options for your new roof and recommend a style that will suit you best. Our assessments are free of charge.
Installing a new roof requires a skilled and competent felt contractor, that's why it's important that you hire the roof installer with the proper qualifications and insurance.
NEW ROOFS ON HOUSES, SHEDS, GARAGES, CONSERVATORIES & PORCHS
Our team is trained to deal with every roof professionally and safely. We do not employ any 3rd party contractors at any stage as we can not trust them to carry out the work to the standards that we adhere to. We are safe pass certified, registered and insured to carry out everything from small patching to new roof installations
You can rest assured that when you choose TC Roofers Dublin you are choosing a company that places safety, quality of work, and customer satisfaction at the top of our list of priorities. Over 30 years experience with a large mobile team ready to tackle all types of roofing in Dublin.
ALL TYPES OF NEW ROOFING INSTALLED AT AN AFFORDABLE COST AND PROFESSIONALLY IN DUBLIN