ATTIC INSULATION DUBLIN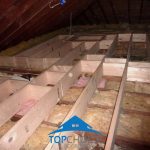 Get an affordable attic insulation service today from TC Roofers Dublin in Dublin, We are specialists at roofing repairs Dublin and attic insulation's, replacing old insulation or ensuring a water tight attic area. If your attic has a leak, or it is loosing heat, call our expert team today for a free no obligation call out and quote.
The attic is one of the most important areas of a house to have effective insulation. Heat has a natural tendency to rise and will therefore escape out through ceilings if allowed. It is estimated that a house can lose 35% of its heat through the attic roof.
Most houses in Dublin only have a thin layer of fibre glass attic insulation which is nowhere near sufficient to retain the heat from below. With a large percentage of that heat escaping, the heating must be kept on longer to retain a comfortable temperature in the home. A well insulated home can save can save up to €550 per year by upgrading the insulation in the attic area.
We can prevent heat loss by upgrading attic insulation in new and existing houses in Dublin. Our experienced team can update homes to the correct insulation standard in your attic.
By using Rockwool Blown Insulation or Knauf Insulation Mineral Wool, the attic area is covered with a 250mm-300mm layer of high quality attic insulation. This will help prevent the heat from escaping, keeping the house warmer and less prone to drafts.
Call us today for a free assessment for your attic in Dublin. Our team will provide you with a written quotation of the work involved and a breakdown of the costs involved. Experienced contractors for insulating and ensuring a water tight attic in Dublin.

Working with an attic requires a skilled and competent contractor, that's why it's important that you hire trained roofing experts with the proper qualifications and insurance to handle all types of attic work including attic repairs and attic insulation in Dublin.
ATTIC INSULATIONS, INSULATING YOUR ATTIC CORRECTLY IN DUBLIN
Our team is trained to deal with every attic professionally and safely. We do not employ any 3rd party contractors at any stage as we can not trust them to carry out the work to the standards that we adhere to. We are safe pass certified, registered and insured to carry out everything from small attics to large attic overhauls that require a complete replacement.
You can rest assured that when you choose us, you are choosing an attic insulation company that places safety, quality of work, and customer satisfaction at the top of our list of priorities. Over 30 years experience with a large mobile team ready to tackle all types of roofing in Dublin.
CALL OUR SKILLED ATTIC TEAM TODAY TO BOOK A FREE ATTIC INSULATION ASSESSMENT
If you are looking for a free estimate, give our team a call today. Our team is trained to operate professionally at all times while carrying out high quality attic insulation service for our customers. We have over 30 years experience at all types of roofing and attic roofs in Dublin. Our experience ranges from replacement attics to attic underlay repairs, fixing small internal leaks on your attic roof to replacing large sections of damaged attic roofs.
AFFORDABLE DUBLIN FELT REPAIR EXPERTS